ZEISS OPMI Vario S8 Microscope for sale, Lightly used year 2011, has been inspected by Zeiss, setup up ready to working condition
Sale includes
- S8 Stativ (345 181)
- Motorized zoom and focus
- Adjustable with multifunctional foot switch or handgrips
- Binocular tubes 12.5x / f170
- Sony 3CCD DSP Color Video Camera
Efficiency and versatility in one
Regardless of the model, optics and illumination are the key elements of ZEISS surgical microscopes. This is also true for OPMI Vario from ZEISS, whose apochromatic optical design delivers images with outstanding resolution and impressive color fidelity.
In addition to brilliant optics, the precise suspension system enables good visualization and operation of the system.
In particular, the floor stand with the optional lifting column and the optional ceiling mount provide hospital personnel much freedom of movement and good access to the patient. Together with its expandability ZEISS OPMI Vario is a versatile surgical microscope for neurosurgery, spine surgery, ENT and P&R surgery. It is ideal for routine procedures as well as more complex operations in these disciplines.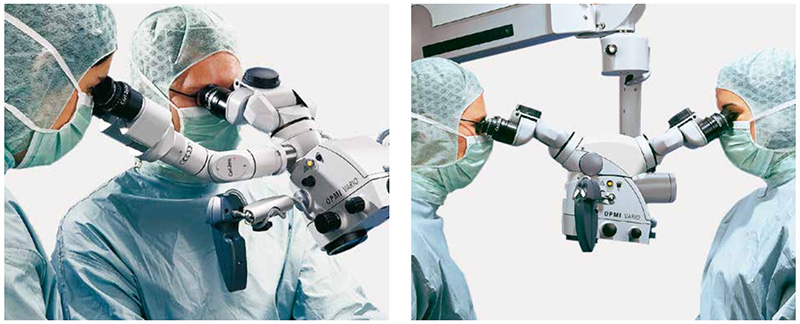 The stereo co-observation tube allows the assistant to easily assume a comfortable position on either side of the surgeon. The symmetrical stereo bridge enables the surgeon and the assistant to work together efficiently in face-to-face procedures.
Tailored to your needs
The modular design of ZEISS OPMI Vario makes it possible to tailor the system to personal needs and to the requirements of many clinical disciplines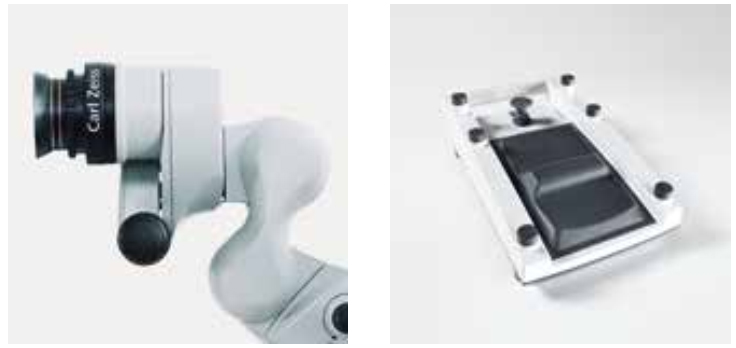 Ergonomic design and operating comfort
Even in extreme positions, the Foldable Tube f170/f260 allows for a comfortable working position. The wireless foot control panel can be freely positioned in the OR – without the hindrance of cables. By controlling multiple microscope functions, it frees the surgeon's hands for the procedure
Optics and illumination
XY coupling enables precise repositioning of the surgical microscope. Optics and illumination The auxiliary lens increases working distance and allows for better visibility in narrow, deep-lying approaches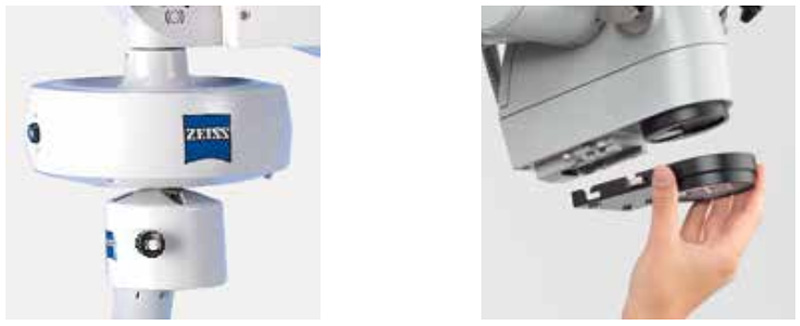 Digital visualization
The ultra-compact TRIO 610 3-Chip HD camera provides high definition video quality The 15" TFT monitor allows for all OR staff – assistant, nurse or student – to follow the procedure. MEDIALINK 100 boosts the efficiency of image and video data management during daily clinical use.

Technical Specifications
Magnification: Motorized ZEISS zoom, 1:6 ratio and adjustable via handgrip or foot control panel
Focusing (Varioskop): Internal, motorized, continuously variable, adjustable via handgrip or foot control panel
Working range - 200 – 415 mm; - 210 – 535 mm with auxiliary lens (optional)
Main binocular tube: - 180° Tiltable tube, f = 170 mm, 10x or 12.5x widefield eyepieces; - Foldable tube f170/f260, including PROMAGTM function for additional 50% magnification and integrated rotate function (optional)
Illumination: Superlux® 180 for main and backup illumination: 180 W xenon lamp with daylight color temperature, backup lamp in fast-action lamp changer
Rated voltage: 115 / 230 V ± 10%
Rated frequency: 50–60 Hz
Power consumption: 115 V ± 10%; 230 V ± 10%
Circuit breaker: Automatic
Interface for micromanipulator: Available (optional)