Leica M844 sale includes;
F40 Floorstand
1 set of 10x eyepieces
1 set of 8.3x eyepieces
M800 Optichrome Objective (175mm)
Leica Zoom Adapter (35-100mm)
1x Hitachi Digital 3 chip video camera
Go to the Leica M822 F40 / F20 Red Reflex Surgical Microscope, with enhanced Red Reflex, meets the highest professional requirements of ophthalmic surgeons to perform cataract surgery more precisely and efficiently.
OVERVIEW
The Leica M844 F40 is the advanced surgical microscope for ophthalmology, belongs to the premium class of ophthalmic surgical microscopes and offers optimal solutions particularly for posterior and high-end anterior segment surgery.
Combined with the Leica M844 APO OptiChrome optics and direct halogen illumination, the system offers the best clarity, contrast, and sharp, true anatomical color images at safer low-light levels. The result: a safer linkage between the diagnostic and surgical image.
Features, such as the QuadZoom technology, the Double Wing Assistant Bridge, and HD recording - exclusively available from Leica Microsystems - make it furthermore the ideal microscope for Teaching Institutes and University Hospitals.
KEY FEATURES
See more with less light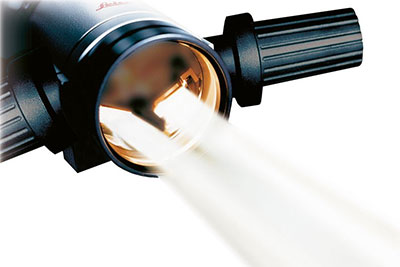 Leica Optics have superior light gathering ability. Sharp, brilliant, true anatomical color images with excellent depth of field are obtained under limited or even no microscope illumination. The result: better detail recognition, added patient safety, and fatigue-free viewing for the surgeon.
QuadZoom: The teaching solution

Only Leica's QuadZoom technology features four separate beam paths in the same zoom system. No manual adjustment by the teacher is necessary. Leica's Double Wing furthermore allows two students/assistants to have full stereo view at the same magnification.
Work in comfort
The Leica M844 F40 offers various features to enhance the surgeon's and assistant's comfort and to support an ergonomical workflow. For example: individually adjustable binocular tubes such as the UltraLow II binocular tubes, Leica Wireless Footswitch, Two-in-One display, StepCycle, and Auto Reset function.
High-definition documentation
The Med X Change HDMD PRO, a compact, integrated HD digital recording system, provides stunning, high-quality videos, and still images. The system is exclusively available from Leica Microsystems. Additionally, surgical cases can be wirelessly transfered to an Apple® device with Med X Mobile.
Integration of retinal accessories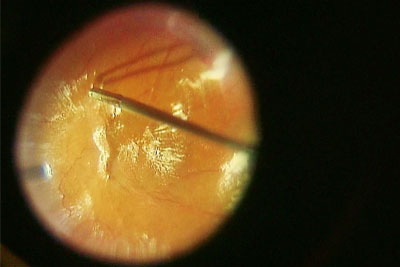 Leica Microsystems' surgical microscopes are designed to integrate the most commonly used wide-angle observation systems and stereo image inverters. They are also provided with a quick mount interface to comfortably and quickly install and remove e.g. the Leica slit lamp.
True Red Reflex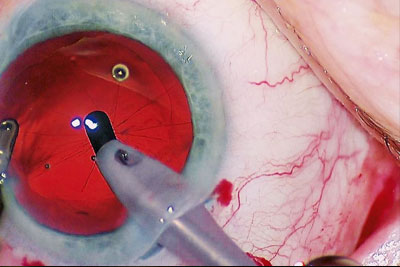 The double beam stereo illumination and Leica's large OttoFlex™ II illumination diameter enable true three-dimensional vision, and better Red Reflex stability and brightness. The result: increased depth of field, less XY-centering and refocusing required, brightness adjustable where it is needed most.
Leica-M844-F40-Surgical-Microscope.pdf